.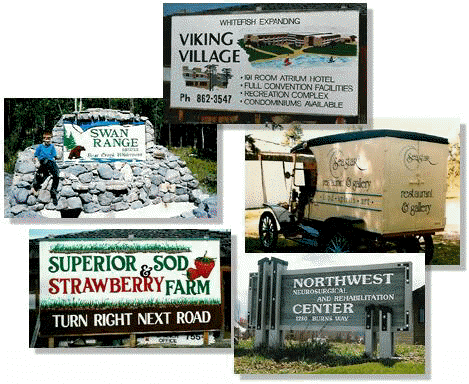 We would like to bid on your next sign order.....
Baumbach Signs can provide you with a top quality sign at a great price! Our clients love our signs and they love our prices, too!

We can ship your sign almost anywhere in the United States and even have it installed for you in most areas of the country.

George Baumbach, the owner of Baumbach Signs, has been doing signs since 1965. He will be happy to talk to you personally about your sign needs and see that you are satisfied.

In our many years in the sign business we have done thousands of signs for many satisfied customers. We would like to be your sign company, too. You will find us friendly, reasonable, and very easy to get along with.
Logo Design:
One of our specialties is designing logos for businesses. A well designed logo enhances the image of the company and gives the company a more professional image in the eyes of the customers. Let us help you upgrade your company image with a new logo design.

Sign Design Service:
There are hundreds of different ways to design a sign by using different materials, font styles, color combinations and layout styles. Each type of business calls for a different sign design. Sign Design is one of the services we specialize in and invite you to take advantage of our experience in designing your next sign.

Vinyl Sign Lettering:
We can cut vinyl sign lettering in dozens of colors and ship it anywhere in the country. Vinyl sign lettering is perfect for vehicle signs, window signs, signs on wooden backgrounds and signs on walls. Vinyl sign lettering will work on almost any smooth dry surface.

Sand Blasted Signs:
These beautiful signs are sandblasted in prime redwood. Sand blasted signs make any business look successful. Sand blasted signs can be shipped anywhere in the country.

Plexiglas and Metal Letters:
These letters can be mounted on exterior or interior walls and on signs to add a look of quality to the sign.

Handpainted Signs:
We can paint a custom sign for you using special lettering styles, illustrations and cartoons. There are a large variety of things that can be done on handpainted signs.

If you are looking for a quality sign at a great price, please give us a call. We are here to help you.


406-752-4339

Email: georgebaumbach@yahoo.com

3225 Foothill Road Kalispell, Montana 59901
.